In case you missed it…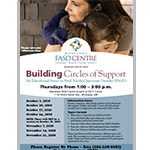 In case you missed one or all of the recent Building Circles of Support online modules, don't worry! All of the posts are accessible through the blog archives OR on our resource page!
Thank you to the Manitoba FASD Centre and the FASD Family Network for working so hard to get the Building Circles of Support information out there for everyone in a different format this year!