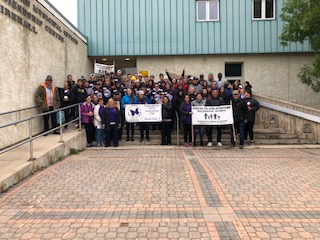 Approximately 100 community members, Blizzard hockey players, ECE students/instructors, parents, people with FASD, service providers and Rosaire House attended the 16th annual FASD Awareness Day Walk and Luncheon in OCN and The Pas, Manitoba on September 9, 2019.
Participants gathered at The Pas Friendship Centre for an Opening Prayer and drum song before walking across the bridge to Gordon Lathlin Memorial Centre.
The walk was followed by official remarks, reading of the Proclamation and the newly passed legislation declaring September 9th FASD Awareness Day in Manitoba, and all participants enjoyed a bag lunch.
Thanks are extended to participants and those who helped make this day a success.