Do you know an individual with FASD who owns their own business?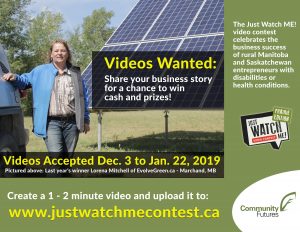 CHECK OUT the Just Watch Me! Video Contest!
The Just Watch Me! Video contest celebrates the business success of rural Manitoba and Saskatchewan entrepreneurs with disabilities or health conditions promoted by Community Futures Offices.
More information is on their website: http://www.justwatchmecontest.ca/, or their Facebook page: https://www.facebook.com/EDPvideocontest/.   Past winners can be found on their website under "Entries".
Submissions are accepted from December 3rd to January 22nd